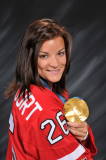 The International Ice Hockey Federation doesn't have the equivalent of the NHL's Bill Masterton Award for perseverance and dedication to hockey.
But if it did – Team Canada's Sarah Vaillancourt would have to be the 2013 odds-on favourite to win. The Sherbrooke, Que. native has overcome numerous injuries to earn a spot on roster that is attempting to defend its gold medal at the Women's World Hockey Championship.
Vaillancourt is tied for second in team scoring with six points (2 goals, 4 assists) in three preliminary round games. Canada faces Russia in Monday night's semi-final (7:30pm ET, TSN)

"I was happy and surprised," said Vaillancourt of learning on March 18 that she would be one of twenty-three players going to Ottawa for the tournament. "I was definitely hoping to be on the roster. I didn't know what to expect really. All the years that I've worked really hard for this team paid off."
It's been an arduous return for the 2010 Olympic gold medalist, who has underwent numerous surgeries for a bad hip, and also a sports hernia. Vaillancourt, who turns 28 next month, could only watch the world tournament last year in Burlington, Vermont when Canada reclaimed the title for the first time in five years. Thoughts of retiring entered her mind on more than one occasion.
"There were times in the past year when I didn't know if I was going to be able to play hockey ever again. For me, it was about the passion of the game and not about scoring goals," she said.
Vaillancourt returned to play the final five games of the 2012-13 regular season for her club team, the Montreal Stars of the Canadian Women's Hockey League, plus all 4 playoff games as the Stars advanced to the Clarkson Cup Final.
The comeback would not have been possible without a strong support group of peers. "There were a lot of people that helped me; my physiotherapist Amy Rogerson, she's been with the Hockey Canada program and I'm fortunate that she lives right by my house," she said. "We've worked a lot together and we've had a lot of ups and downs together. I saw her at least once or twice a week since July. So, that was a long process and we worked really hard. I worked with a lot of other people; a personal coach on the ice at home in Sherbrooke."
Vaillancourt brings a lethal combination of vision and tenacity to Canada's forward set. "To have her skill in the lineup is a really big help," said coach Dan Church. "She's such a gritty player, tough to play against. She can out-skill you, but she can also be really strong and physical."
All the terms on which the NHL's Masterton Trophy is awarded make Vaillancourt qualified to be an unofficial counterpart winner, for the international women.
***
After a two-game absence, Canada's captain Hayley Wickenheiser draws back into the lineup. Wickenheiser left the opening game of the preliminary round versus the United States with a back injury. "We'll have to see how she goes," said Church when asked if Wickenheiser's playing time would be reduced. "We'll get a good sense in the first few shifts of how she's playing, and as the game goes on – between her and myself – we'll just have to have a good line of communication."
In the first semi-final, the United States plays Finland at 3:30pm.
---
Rob Del Mundo
is the author of
Off The Post
, and is a regular columnist at TMLfans.ca
Stay tuned to TMLfans.ca for updates from the 2013 Women's World Championship in Ottawa, Ontario.
Follow TMLfans.ca on Twitter: http://www.twitter.com/tmlfansrob